Audience first, every time.
WE ARE YOUR DIGITAL Marketing AGENCY
Digital roadmaps designed for your audience that meet your business objectives.
Business is all about connection.
You produce a product, experience, or service people need. The challenge is this: You actually have to find those people, then connect them to your offering in a way that speaks to the heart of who they are.
Black Raven AFC is a digital marketing company that helps you make that connection. We create digital experiences for your audience to help you reach your objectives.
The process begins as we get to know you, meet your audience (or help you find one), and develop the path to achieve your business objectives.
Our designers, communicators, and technicians create experiences that are custom-built for your audience.
When you're ready to launch, our team will manage everything and make sure your objectives are met.
Our team of geniuses will analyze outcomes and strategize future success, iterating from the learned experience.
Connect with a Black Raven team member.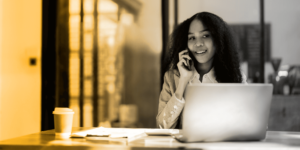 In any competitive market, staying connected with your customers is not just a nicety – it's a necessity. Having a direct line of communication to
Read More »