Business leaders from around the region come together to have real open discussions on topics that matter to their businesses.
Let's get together and have an open conversation on CRM and how it can improve your business one post at a time.  
Join us as we bring together business leaders to have an open conversation on Lead Gen; what works, what doesn't, and what's next.
Another great discussion, this time focusing on Customer Experience (CX) and how marketing, sales, and support fit into a bigger client journey.
We had a great time with a discussion that started about Facebook and branched into emerging social trends and how video content can kick start your online presence. 
We pulled together marketing pros and savvy business folks to talk about how each of us use content to reach our people.
Leaders from around St. Louis join forces with marketing pros to have an open conversation on what works, what doesn't, and what's next in their companies business strategies.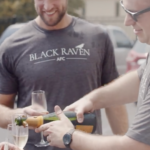 Black raven AFC Launch party
We had a blast watching the Blue Angels warm up as we celebrated the launch of our new company. Check out the photos from the event.