We are looking for someone just like you, someone looking to help us help our clients help their audience. Pick a job below and let's get to work.
Mischief managed. Also, audience-first content calendars managed. 
Paid Marketing Specialist
Social? Search Engine? Traditional? If you know it we want to know you.
Business Development Hunter
Think Audience First Digital Marketing can make a difference in the world? We need a lead generator just like you who knows how to build relationships.
Andrea Bemis
Director of client success
Andrea adds a wealth of experience to the Black Raven team, having worked in a variety of tech-related roles for the past 16 years. From quality assurance to SEO implementation, marketing, brand management, project management, and more, Andrea has applied her knowledge to become a superstar client success advocate at Black Raven. Above all else, Andrea enables clear and consistent communication with our clients and internal teams. And that's not all Andrea brings to the table. As a mother, wife, daughter, and sister, her family and faith are foundational aspects of her life. If she isn't working to ensure positive results for our clients, she is likely planning a family event, working with her church's youth programs, or playing her favorite board games with friends.
Brandon Kueker
web developer
Brandon Kueker is a web developer extraordinaire. At Black Raven, Brandon makes sure the technical aspects of the websites we build are working as they should be. He also helps provide out-of-the-box solutions to solve unique client needs.
An important value for Brandon is freedom, the ability to pursue what makes you happy in life. In his free time, he enjoys playing piano, video games, and movies with good twist endings.
From for-profits to non-profits, Brian has spent the last 15 years helping organizations connect with their audiences. He's done this in roles as creator, manager, vendor, and client. Born in St. Louis to a large Irish family, he's a husband, a dad, a novelist, amateur student of astrophysics, zoology, and learning to drink good bourbon.
Brian's two primary roles at Black Raven: The Glue, and The Grease. On the sticky side, he brings everyone together around a unified vision that puts people first. On the slick side, he helps things keep moving forward to make sure clients are getting better solutions. Brian keeps the team burning hot instead of burning out, while the audience gets served well every step of the way.
The scariest show he'd recommend on Netflix? Black Mirror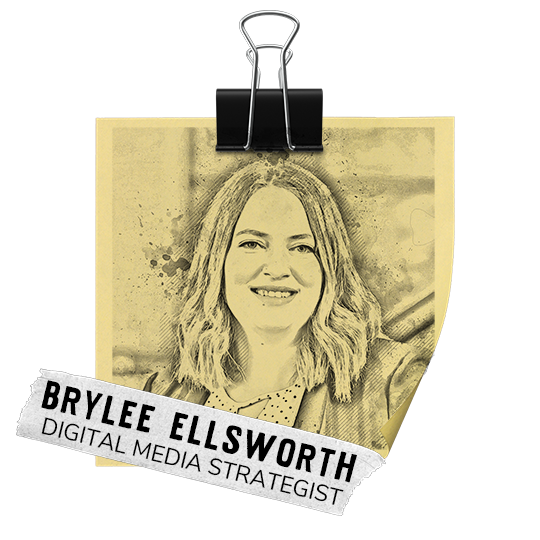 Brylee Ellsworth
Digital Media Strategist
Brylee brings her growth mindset to client's businesses by providing world class Search Engine and Reputation Management for brands. Her intent based search approach helps audiences find what they are looking for in our partners digital communication platforms.
Kayleigh Moncey
Social media manager
Kayleigh has a passion for all things aesthetic; from designing beautiful imagery to go along with her sharp copy, to creating color fiber works of art, she is a consummate student of growth and improvement in everything she creates.
When she isn't developing content for clients' organic channels (or trying to keep up with her two precocious children) she is the host of the New to Knitting Podcast alongside another notable Raven.
Whether she's working one-on-one with a client, or managing workflows for the Black Raven Team, Kym is a pro at organization and communication. She enjoys working with people, getting to know the ins and outs of every project. Her curiosity and organizational skills make her someone you want on the job to keep things moving.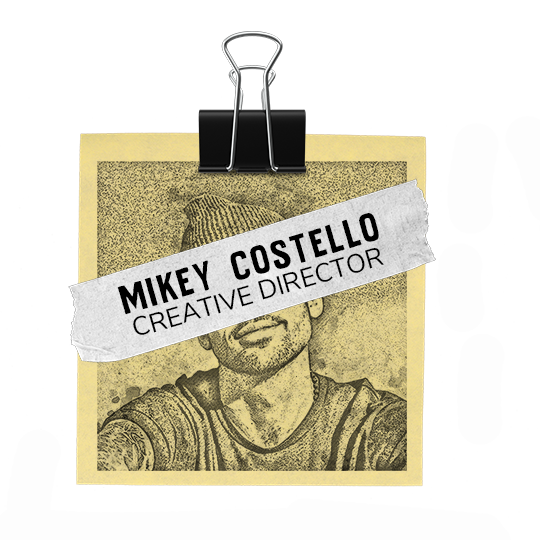 Mikey Costello
Creative director
Mikey made his way to the design world through a series of twists and turns, after beginning his professional career as, wait for it, an… accountant? During the journey from bean counter to pixel pusher, he's learned a few things about how to connect with an audience through intentional design.
Mikey combines his artistic sensibilities with world class marketing chops to help clients realize their vision. He is always up for a creative challenge, or a bowl of cereal before bedtime. Lately it's been chocolate peanut butter puffs.
Nicholas Hibbeler
content manager
Nick Hibbeler is Black Raven's Content Manager, working with clients to develop and edit written content for their websites, blogs, social media, and more. Nick has worked in a variety of roles including developing training materials for remote work programs, producing live events, producing multimedia content, and offering freelance writing and editing services.
Nick lives in St. Louis, Missouri. He loves his friends, his family, and the chance to wake up every day and learn new things. There's a lot he likes to do in his spare time, but if you checked in on him, there's a good chance you'd find him taking a walk in Tower Grove Park, reading on the porch, or practicing piano by the window.
Whitney Vioski
Creative Director
Whitney is a Creative Director at Black Raven, which means she pretty much gets involved with a little bit of everything for our clients. From leading other creatives, to getting her hands dirty and designing herself, Whitney brings vision and clarity to projects in the face of mounting details and deadlines.
TJ Vorva
Paid Digital Strategist,
TJ Vorva is Black Raven's Paid Digital Strategist, working with clients to develop paid ad campaigns and create audiences on Google and Social Media. His background includes social media management, digital marketing, email marketing, video editing, project management, and paid marketing.

He lives in St. Louis, Missouri. In his spare time, he coaches boys volleyball at High Performance volleyball club as well as men's volleyball at Fontbonne University in Clayton MO.

He enjoys traveling the country with his teams and friends.